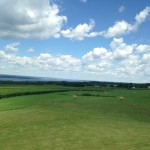 I've been off the grid! Gentle readers, sometimes business takes it all out of you for a bit, and quite frankly being business owners was rough for a patch. I'm happy to report things are currently fantastic at our tattoo shop, and I've been able to once again turn my attentions towards the fields and this year's harvest bounty.
It's finally October first, which means lots of the grapes have already been harvested and pressed around the Finger Lakes, and one of the busiest times of year is here! Tasting rooms will be extremely lively on beautiful fall weekends, so if you're visiting, be civil and expect crowds of other tasters. The good news is, the views are heading towards incredible – enjoy, and don't be in a rush. The Finger Lakes are all about taking a breath and enjoying some of the most beautiful scenery in the world. Pick some apples, peep the fall leaves, hike a waterfall, taste some locally made wines, ciders, beers, spirits…chocolates….cheese…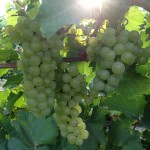 Harvest 2015 is in full swing, with lots of grape picking, pressing, and cellar happenings currently in the works, area wide. My Instagram feed is currently full of grapes being pressed, yeasts going in and fermentation starting, and lots of rain gear the last twenty four hours! It's been dry and warm the last two weeks, so many growers got their grapes in before rains started in earnest. Our local weather called for over three inches of rain into today, with more over the weekend. Hopefully it dries out so that everyone gets their remaining crops in!
It's also fun to see the apple farmers harvesting for their upcoming vintages of hard ciders. The movement is growing nationwide,  and the Finger Lakes area is at the center of high quality, heirloom farmed fruits, classically made, dry to off-dry, sometimes fermented in bottle, hard apple and pear ciders. This coming weekend (October 3rd and 4th) is the Apple Festival in Ithaca, with FLX Cider Week also kicking off. I'll be attending some local happenings on that front, so stay tuned! October is going to be fun, and fall is the best time of year to be in this area, in my humble BoozyWife opinion…that's why we tend to stay local until the snow flies again….