Frigid February is here, and the Finger Lakes have you covered for celebrating romance (and everything else) with bubbles! Champagne can only be truly CALLED Champagne unless it's made from certain grapes, and produced in a regulated area in the region of Champagne, France. Anything made here in the US will be called sparkling wine–however, the methods in which the bubbles are created are sometimes different.
A bottle of Finger Lakes or local bubbly might be marked with Méthode Champenoise, which translates to the traditional Champagne Method of hand turning bottles while aging (called riddling), aging the wine in the bottle on the lees (left over or dead yeasts), or the traditional, natural way to create the bubbles! In regular, or 'still' winemaking, carbon dioxide escapes when fermentation occurs. In traditional champagne making, they add a little and sugar to the yeast  fermentation is in the bottle, trapping the bubbles–that's where the 'POP' comes from when you pop the bottle! On the other hand, cheaper or non-traditionally created sparkling wines are often simply injected with a little bit of carbon dioxide gas, similar to a bottle of Coca-Cola soda…not quite as fancy a process.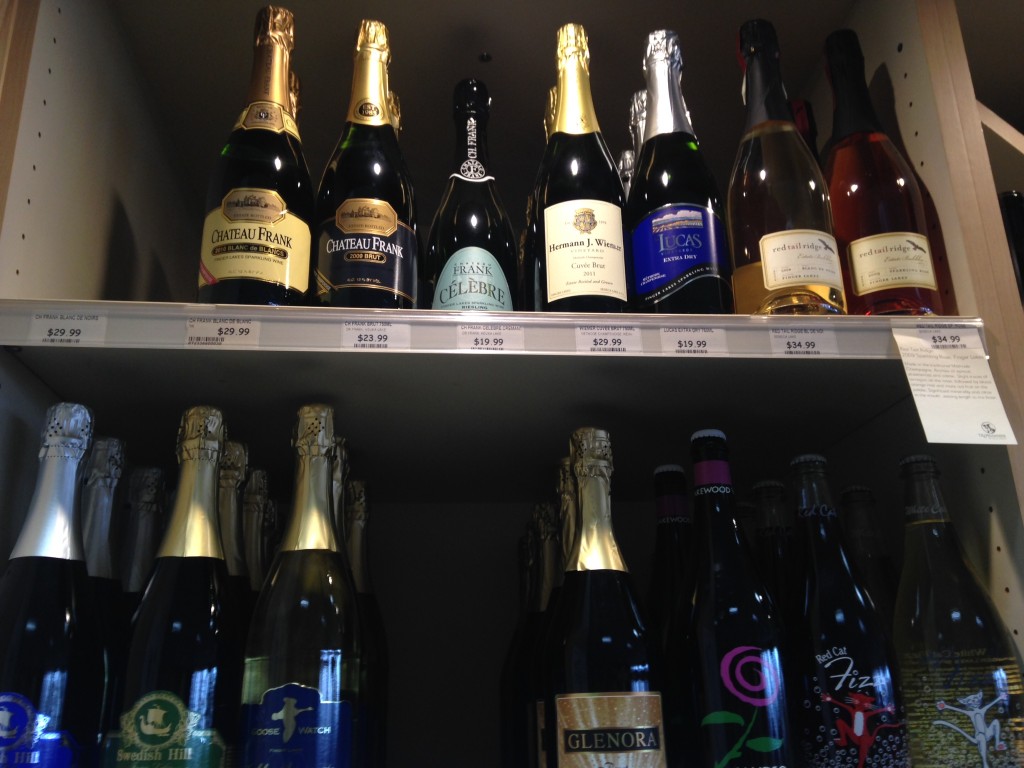 While we can't call sparkling wine Champagne locally, the Finger Lakes are producing some fantastic bubbles for all of your celebrations, romantic or otherwise. I stopped into our local liquor store in Ithaca, Triphammer Wines and Spirits, to see what they had on hand from Finger Lakes producers. You should be able to find several of these in the NY State area, including Manhattan wine stores in the know–have a look!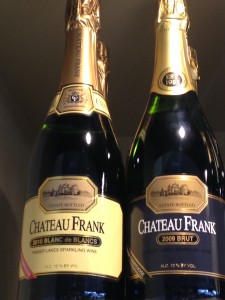 Chateau Frank– Bubbly house producers from Dr. Konstantin Frank on Keuka Lake. They make a couple of different styles of bubbles–easiest to find will probably be their Blanc de Blanc (made all of Chardonnay grapes) or Brut (means dry or raw in French). Both are lighter, crisp flavors, quite dry. The Célébre from Chateau Franc is a sparkling Riesling that's a fun change from the usual! Price points go from mid $20's with the Riesling just under $20 retail.
Herman J. Wiemer– Cuvée Brut 2011– the cuvée is a French term for the tank, and often refers to the best juice from a grape pressing. Brut is on the dryer side, and this is a beautiful representation of a traditionally crafted Finger Lakes sparkling wine in a very traditional style. Retails for @$30 per bottle.
Red Tail Ridge Estate Bubbles– Blanc de Noir and Sparkling Rosé –Blanc de Noir means essentially "white from black" in French, and is usually a white sparkling wine, made from RED Pinot Noir grapes. No skin contact keeps the wine clear, or not colored. A sparkling rosé can be made from several different red grapes, usually Pinot Noir or Cabernet Franc. This one is drier, with a lovely fruity, strawberry nose and blush color. Retail @ $35 per bottle.
Sweedish Hill 2006 Brut, Blanc de Blanc, Riesling Cuvée– winery on the north end of Cayuga Lake. Dry traditional Brut, and a very popular semi-sweet sparkling Riesling. Retails From $25 to under $20 for the sweeter sparklers.
Glenora Winery–vintage and Non-vintage Brut produced on Seneca Lake. Non-Vintage is a great value retails around $18 per bottle or less! Also produces a sweeter fruit (peach and raspberry) sparkling Spumante for a fun spritzer.
Lamoreaux Landing Blanc de Blanc and Brut–dry, traditionally produced champagne style bubbly, lovely delicate bubbles. Estate grown and bottled. Priced at mid $30 range retail.
Hazlitt White Cat Fizz–sweet, fruity, sparkling style white wine. Not champagne, but very popular and well distributed! Picnic wine.
It's getting easier to find Finger Lakes sparklers for every occasion! Have fun looking for your next taste, and shoot me a comment with your favorites–the Finger Lakes is a beautiful place to Taste NY ❤️ Enjoy your Valentines Day!