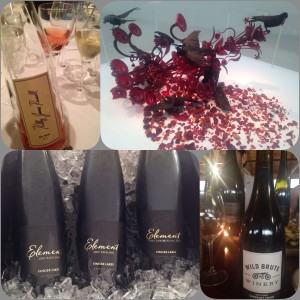 After a long week of jumping through hoops as a tattoo wife and shop owner, it was a pleasure to attend the Wine Boggers Conference 2015 in the Finger Lakes area of NY, or as I like to call it, 'home.'
Over two hundred and fifty wine writers and bloggers would be participating in a three-day weekend (plus some pre and post excursions!) of wine tasting, exploration, seminars, and networking. I'm an old pro at the tattoo convention scene— but a wine blogger convention? What was that going to be like? I had a few notions, but seeing that it was to be held in our backyard of viticulture in the Finger Lakes area, I couldn't miss it! This area is exciting, vibrant, and on the cusp of great things…I wanted to see what the OTHER bloggers thought, as a way to see our area (and my 'hood) through fresh eyes.
All three days were pretty heavily scheduled with events, some as writing workshops, mentoring, and pro panels, excursions to several different wineries and events, and LOTS of wine tasting.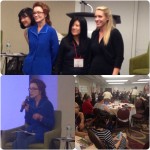 Keynote presenter Karen MacNeil, wine goddess and author of The Wine Bible, was as inspirational as she was fierce. HERE is a woman to idolize, ladies….strong, professional, and absolutely taking no shit from anyone. Honestly, if that was all the conference had for me…Karen's words would have been enough. She'll get a post all of her own, because Karen is an incredible spirit– that the women in the wine industry MUST recognize — as a door opener and trail blazer. She may be in Napa now, but she has the heart and fire of a New Yorker. One of my favorite quotes that she dropped on women in the industry during the weekend was, in relation to sexism in the wine industry: "the barrier has never been sex, it is mediocrity. The door is open, walk through it." ABSOLUTELY!
Tastings were a huge part of the event, and I counted over seventy-three wine tasting notes over two days that I took–not too shabby! LOTS of spitting, kids….don't try to be a hero. You will fail and quite possibly make an ass of yourself.
The tastings ranged from the normal table and pour, to a "speed dating" version of a tasting (wine makers came to your table with their bottle, gave some wine notes, and had five minutes with you, then it was off to the next table!), to a mystery bus excursion….get on the bus, go to a secret location, have an AMAZING TIME, return later to hash out where we all ended up!
BoozyLife ended up on the bus headed to Element Winery in Arkport, vision of the incredibly talented and hard-working Master Somm Christopher Bates-whose  dinner and wines will get their own post as well, because I saw things happening there that DEFINE what the Finger Lakes can and will be to the wine industry, in the near future and beyond.
In short, the weekend was exactly what I was hoping it would be, and it opened my eyes to magic happening right under my nose! BoozyLife can't wait to share some of the wine makers and their creations with you all, because the Finger Lakes are where it's all happening right now in New York State.
Now, just let me sort out all of these tasting notes…