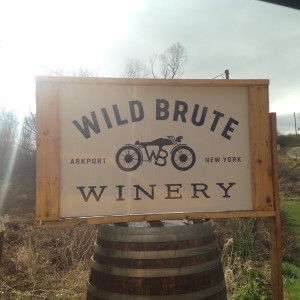 This summer, I was a part of the Wine Blogger Conference –this year located in the Finger Lakes region, or my back yard. I felt like I needed to go because it was so close to home…however, I unexpectedly ran into some incredible local winemakers that were doing things their own way. I made a point of it to explore this back yard of mine in earnest! Arkport, NY just kept coming up, over and over. There are incredibly interesting things happening off the lakes, about an hour away from Corning, NY.  I took the ride, and it was totally worth it.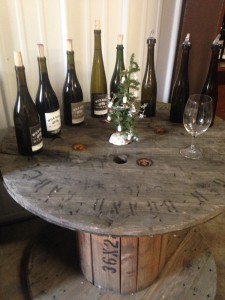 The French were the first to use the term 'Gagariste' in terms of winemaking–these were the mavericks, making wines off the grid and outside of a very regulated system. Although they were not in the system, the French had to agree that the small batch, artisanal products coming from these tiny producers were interesting, and sometimes ground breaking. Justin Recktenwald and his startup, Wild Brute Winery in Arkport, NY, fit the definition of garagiste winemaking perfectly–right here in the Finger Lakes region of Upstate NY. Justin has the pedigree -Graduated Cornell Viticulture program, worked and learned under Dr. Constantine Frank sparkling masters, and has travelled extensively to learn, and apply the knowledge at home.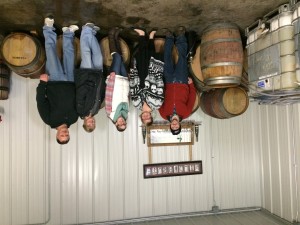 Wild Brute Winery (follow the link for their website) is a family affair. Justin Recktenwald is the owner and winemaker, along with a crew of many-fiancé Kyleigh, mom Wendy, dad Mark, and brother Cody all have a hand in the production process. This family knows farming, and Arkport, and Justin's knowledge and winemaking skill has turned family farm property into a wine bar and production facility. Currently, aside from publicized weekend events and music shows, the Arkport tasting room is by appointment (although during the nicer weather there is an outside open tasting bar.)
I was invited up to do a tasting, and I really can't say enough about the feeling I left with. I brought my husband, and we were met by Justin, his family, and a beautiful spread of artisanal chocolate bonbons from Angelica's Sweet Shop-about fifteen minutes away! I was already a fan of Wild Brute's 2013 Unfiltered Cabernet Franc…but this time, we got to sample the entire lot…and it was quite a showing of what's happening beyond the wine trails on the lake shores!
*Wild Brute 2014 Chardonnay–Bright acidity and a balanced oak finish, vanilla, caramel, green apple, smooth mouthfeel. Grab it if you see it!
*Wild Brute 2013 Unfiltered Cabernet Franc–Dark plum color, red fruit, figs, warm oak, light warm acidity. One of my favorite Cabs in the FLX…seriously. It's special because it's so different from anything else.
*Wild Brute 2013 Unfiltered Single Barrel Reserve–Super Limited, dark jammy red fruit, a bit younger bite of acidity. Gorgeous dark plum color, lasting finish. Oak adds a warm rounded depth without overpowering the fruit.
*Wild Brute 2013 Off-Dry Riesling–Bright nose, floral, pear, peach, honey, green apple. Light acidity is balanced with hint of sweetness and a lasting honey finish
*Barrel tastings of WB Hard Apple Cider (YUM), wild ferment, heirloom apples.
If you see a bottle of Wild Brute, grab it. If you're headed through Horse Heads/Corning and want a bottle, they have a limited stock in the general area. This coming spring, I forsee LOTS of events starting up through the he summer at the Wild Brute wine bar–here's their FaceBook Wild Brute Business Page–Wild Brute Winery on FaceBook–go give them a Like, and know what events are coming up…music, wine, and local flavor, Finger Lakes style…off the lakes! Make an afternoon drive that you won't regret! #goingrogue