A tattoo convention, in the heart of Santa Rosa wine country? YES PLEASE! Hot rod car culture, live rockabilly bands, and talented tattoo artists…that was the winning formula for (a newly revamped) The 27th Annual Santa Rosa Tattoos & Blues Festival, held February 23-25, 2018.
Located at the old-Hollywood-glam-style Flamingo Resort Santa Rosa, packs of pinup girls in full regalia meandered through rows and rows of classic cars outside, eyes stylishly shielded from the sun in retro cat-eye shades…
Once inside, tattoo artists from all over busily buzzed away, while groups of tattoo collectors mingled, perused, and added to their ever growing collection of tattoo work-be it a new tattoo, art hanging, or a hand painted, one of a kind sign for the studio. This is not a huge crowd convention, but has a big main room featuring the bulk of the artists, with a couple of smaller, more private satellite rooms. Hardly any vendors selling merch, but lots of cool tattoo work happening- and the lounge was often jumping with live music, long after the show had ended for the day. Musicians performing included local favorite rockabilly bands "The Rev Tones", "The Vintage Vandals", and "The Aces".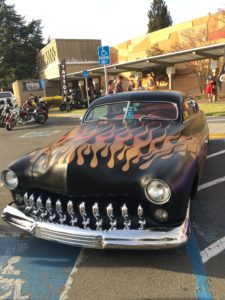 Heads up, when the convention floor is overwhelming….the Flamingo Resort has a pool area (featuring two Olympic sized pools, with lap lanes), a gym (including hot yoga classes), massage therapy, and is the perfect place to get your self-care, pamper-time on! Too bad it was chilly outdoors, the water was quite nice and warm…not lay by the pool weather, even in CA.
Tip for the pinup buffs, hanging on the wall by the lounge, there are some really cool vintage photos of Jayne Mansfield in a bikini, posed by the Flamingo Resort pool in ultra pinup glam fashion, circa 1960.
The updated Flamingo hotel lobby design also features wine displays from Ehret Family Winery in Santa Rosa, which focuses on sustainable growing practices, growing Cabernet Sauvignon and other Bordeaux grape varieties.
Sonoma and Napa Counties were hit hard during the Thomas fire, and there was structure damage in Santa Rosa–but less than three percent of local wineries were impacted! The best way to support the winery trails are to get out there, and visit tasting rooms. The Santa Rosa wine community is ready to welcome wine tasters and tourists back, complete with open arms and full wine glasses…the least we can do is show up and enjoy the world class hospitality they have to offer.
Full sad disclosure, I was still getting over a sinus infection, so my tasting tour for Sunday was mostly as a photographer–the mustard cover was in full bloom, and it's on my bucket list to see! We stopped at Kendall-Jackson Wine Estate and Gardens to explore the property and frolic through a bit of ground cover mustard greens (*plus, I wanted to report back to our winemaker friend Nathan Kendall in the Finger Lakes that I had finally visited and toured the notorious behemoth KJ winery that has all the rights to his last name…).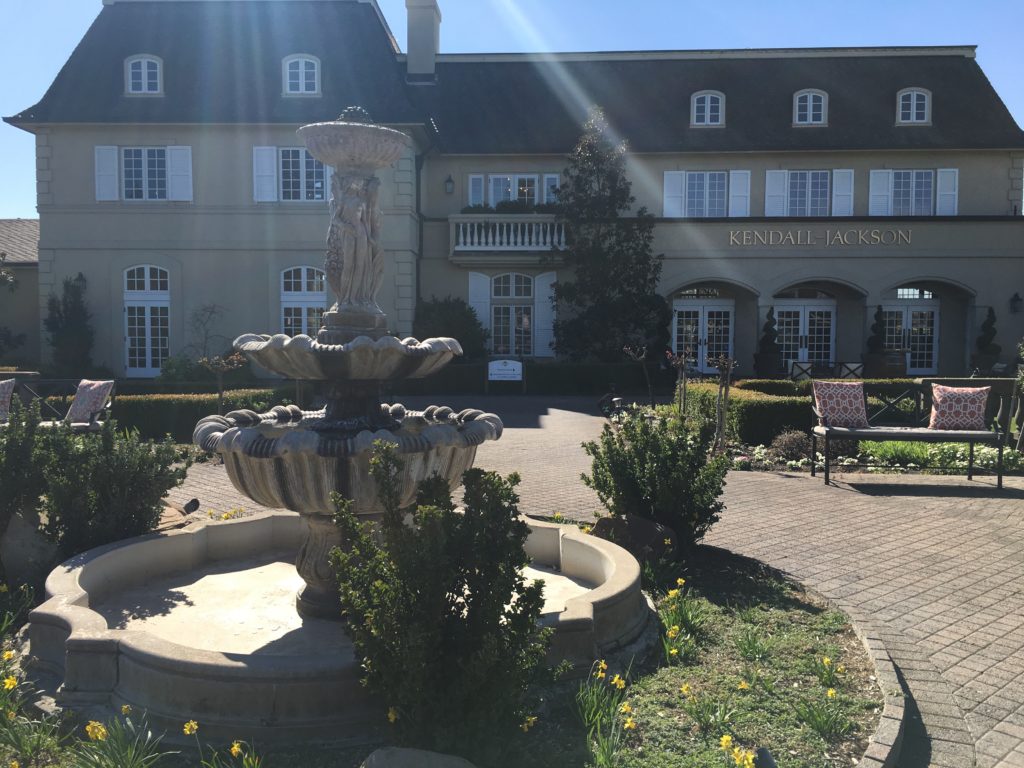 Even with the sniffles, husband took me for a quick taste (and of course to grab a couple of bottles) of the delicious new 2017 Pinot Noir Rosé at Balletto Vineyards. The tasting room was hopping with guests, and our tasting host was nice enough to give me a complimentary pour of the rosé…even though I was sick, and already sold. Gorgeous light pink blush color, partial whole cluster crush, and juicy ripe fruit on the nose is what I have to look forward to once I'm recovered–a perfect way to end the weekend–with a haul of rosé….
A quick detour to Bohemian Creamery in Sebastopol led to the discovery of a boutique goat cheese spot, crafting some of the most lovely, delicately nutty, funky cheeses I've tasted this side of Corsica. We bought a chunk of delight home with us, especially to pair with the Balletto Rosé. Don't miss it! Super fun spot, and a cheese tasting is always worth stopping off for.
A big thank you goes out to the folks that worked hard to put on the new incarnation of Santa Rosa Tattoos & Blues, from the entertainers and artists, to the security and convention center crew. It was fantastic to attend a tattoo expo, right in the heart of California wine country, bringing my two loves together in a way I've never seen before! We will definitely be back…and just maybe, next year, there will be an official BoozyLife booth!