Well, it's that time again. Time for obligatory Thanksgiving blog posts! What to cook, what wine to serve, and how to survive the holidays abound. Me and the tattooer are staying local this year, and that means we'll be putting on the traditional dinner at Casa Molina for family and friends that want to swing in. We try to keep it simple, local, and delicious….but this year we are going really LOCAL.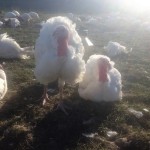 First up, the turkey. In the past, my dad has had the fresh turkey hook-up from having owned a restaurant for twenty years. This year, I'm super excited to bring the bird! Today, we grabbed a little thirteen pound turkey from our friend Heather Sandford, who with husband Brad Marshall own and operate local pig farm and butcher shop The Piggery (follow the link for their beautiful blog and website). Incredibly, my husband and I were lucky enough to score a REAL PERNIL from them last Christmas, which was rated as 'absolutely divine'– that came from Puerto Ricans that KNOW their pork, and it is VERY serious business.
The Piggery has a retail space in Ithaca (423 Franklin St, down by Red Feet Wine Store) that has a fantastic selection of their far raised pork-plus goodies from all over the Finger Lakes, from cheeses, breads, spreads and oils, plus beef and poultry sourced from Autumn's Harvest Farms in Romulus, NY. Our little Thanksgiving turkey guy lived a happy, pasture life, wherein he roamed free and ate certified organic grains, bugs, and all the good stuff turkeys eat in real life. No factory farming here, kids. This is how our great-grandparents did it….no antibiotics or chemicals, just quality meats from well lived and cared for animals on local farms. Here is a pic of the star of the show…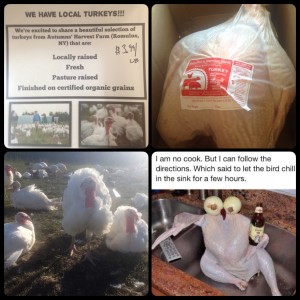 Next up, what booze I'll be bringing to the table…local wine, hard cider, brews, and cocktails to enjoy with your holiday spread and beyond!